Revisiting a trip that took place in late fall one year, where the last warm rays of sun struggle against the oncoming cold light that winter produces. I love both types of light for photography- they both produce such dynamically different results.

These New York winters are fairly dismal and cold though, and it's always refreshing to get some warming light flooding the halls of these old psychiatric buildings. It becomes easier to remember the human element, to recall the hundreds of lives affected by these institutions, both the good and the bad.




Far too often I'm repulsed by seeing these beautiful historic places turned into cliche subjects of B-movies. Flaunted as haunted, wards for psycho-killers (Qu'est-ce que c'est?), the images become those of electroshock machines, botched lobotomies, straightjackets and padded walls. I understand the macabre fascination here- most institution conditions were horrible. I just don't see how making movies like "Death Tunnel" and "Madhouse" do even the sheerly exploitative fascination with insane asylums any justice.

I have my own aesthetic loves in hospitals. I love lonely chairs, rotary phones, and solariums. And keys.

I  couldn't begin to shake a stick at the number of wheelchairs I've seen in the past few years, but seeing a neglected storage room full of them still inspires great emotion. From the tiny chairs for children, to the potty chairs for the incontinent, to every conceivable style of reclining, stationary, restraint-laden, angled, metal, wood, PVC and everything between- to know each of these was used by a disabled person to grant them mobility, often in an enclosed, closely supervised environment is still a testament to their human qualities.

But I digress- back to my late autumn hospital. Middletown State Hospital is located in New York state, several hours' drive north of the City, I found it to exude warmth. A  reasonably small psychiatric building as compared to some I've seen, the luminosity of its walls, the lack of vandalism, the sprawling day rooms all brought a sense of community to the building.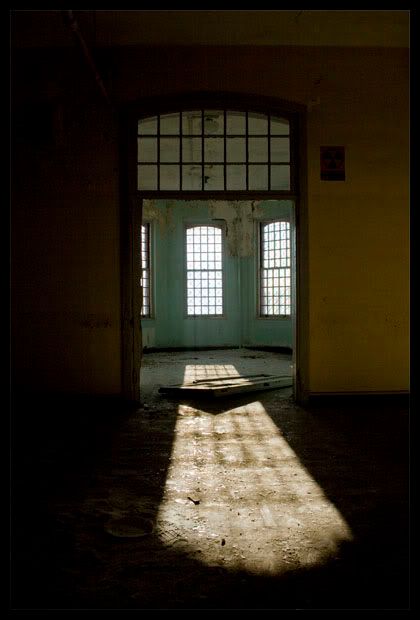 Late afternoon light through an empty room.



A wooden seclusion room door with an inset 1" thick piece of circular glass. The shadows are cast from the barred window within the room.



A green day room.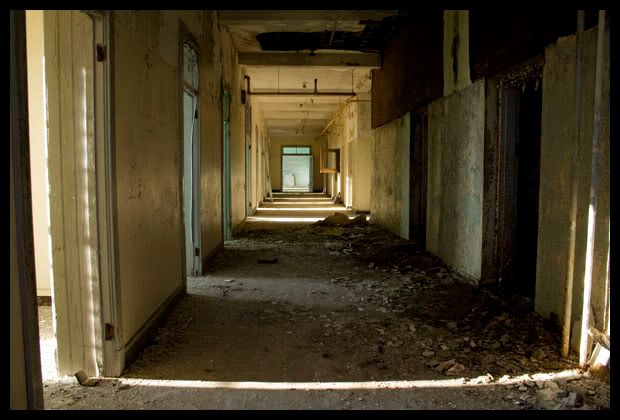 Warm corridor looking down on multiple seclusion rooms.



Multi-colored connector hallway. Long exposure shot using the last 10 minutes of light streaming through the hospital.



Dark hallway as the sun has nearly set.



Collapsed floor- a lot of the building is suffering from severe structural decay and multiple floors have collapsed, some on top of one another.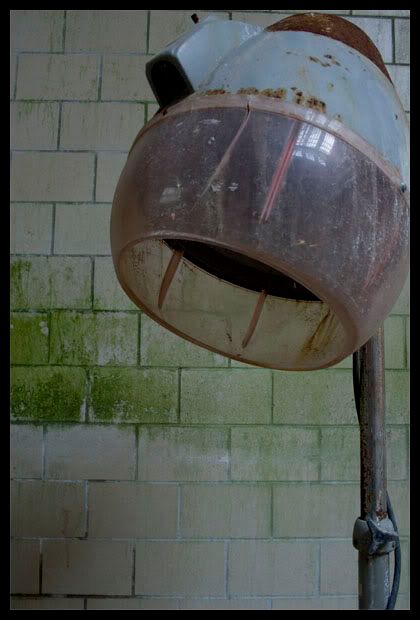 Old hairdryer, moved into the collapsed cafeteria on the bottom floor of the building at some point when the building was being vacated.

Small a building as it was, Middletown is among my favorite state hospitals.